Tweet image of stats of covid19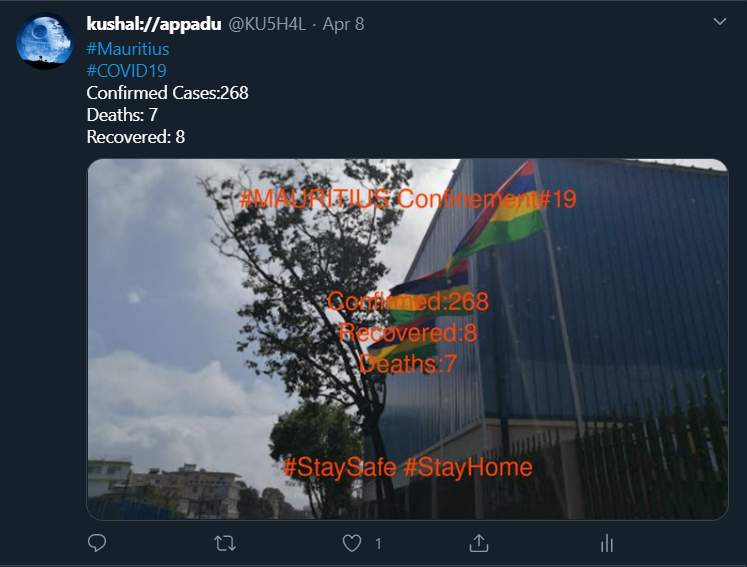 This is a small personal project which tweets details about the current stats of covid19 in Mauritius by writing the stats received from https://github.com/CSSEGISandData/COVID-19/ on one of my image that I have uploaded on Google Photos.
The flow is programmed on NodeRed flows and triggered everyday a specific time.
The codes is available on gitlab https://gitlab.com/appadudevraj7/tweet-covidpictures-mru

The Scripts and Node red is on my Raspberry PI running the Raspbian Buster.
Pre-requisites
NodeRed (with twitter module)
Bash script
Imagemagick
A twitter API Token
Get Data from CSSEGISandData Github
Everyday at 23h55 GMT+0, the data in csv format is uploaded on https://github.com/CSSEGISandData/COVID-19/tree/master/csse_covid_19_data/csse_covid_19_daily_reports with name like "04-08-2020.csv"

My first flow is to retrieve the data with the updated csv file based on previous date and is triggered at 01 AM.

– Create the URL of the daily report with previous date
– Download the CSV file using the http get request
– Convert the Result into csv
– Save the file as it contains data for all countries
– I have used a loop to get values for Mauritius only and save the details in json format on a file

A snippet of the Javascript to get details about mauritius
var data = msg.payload;

var confirmed,recovered, deaths;

for(var i = 0; i < data.length; i++)
{
  if(data[i]['Country_Region'] == 'Mauritius')
  {
   confirmed =  data[i]['Confirmed'];
   recovered =  data[i]['Recovered'];
   deaths    =  data[i]['Deaths'];
  }
}

msg.payload = '{"latest":{"confirmed": ' + confirmed + ',"deaths": ' + deaths + ' ,"recovered": ' + recovered + '}}' ;

return msg;
Prepare a custom Get Request to get values for mauritius
I have expose a url https://url.com/getcovid that will retrieve data of mauritius from the json file for Mauritius only


Prepare Image with current Statistics
Imagemagick is of great help to allow image manipulation
Steps:
1 . Get the URL of image from my API (Images from Google Photos)
2. Download the image on a path
3. Get http request on /getcovid on my node red to get the values
4. Use Imagemagick to write on the Image
5. Save the image on another location
https://gitlab.com/appadudevraj7/tweet-covidpictures-mru/-/blob/master/imagegen.sh
Launch full flow to tweet image
Executes the image script to get the picture with stats on it
Get the image location and copy the file to Binary on Nodered
To post image on twitter, it uses the msg.media, the next node is to switch msg.payload to msg.media
Query the /covid on nodered to get stats that will be used as text post of twitter
Put all the Post together along with the picture (msg.media for image and msg.payload for the text tweet)
Use the twitter node to post

Final Result on Twitter